Complaint Management Systems (CMS)
Complaint handling shouldn't start with a complaint about your software. The intricate business of complaint management is hard enough without having to battle your software or be dictated by it.
LANWorx CMS is a purpose built application for recording, managing and reporting on cases, complaints or investigations for anyone who works in case or complaints management.
Designed in conjunction with the New Zealand Office of the Ombudsmen, it is written to fit the best practices of Complaint Management. CMS software manages every step of the complaint life cycle from the recording of the initial contact through to reporting on the final outcome. Incorporating document management and workflow features, CMS becomes the single point of access for all information relevant to a complaint.
As each customer's internal business processes and terminology are very different there are no set standards. Therefore the system needs to be extremely configurable and have the ability to dynamically change with associated changes in requirements or processes. That is the core strength of CMS.
Key features & benefits
Manages your complaints, processes and people more efficiently
Manages all your communication and documents associated with a complaint (emails, documents, faxes)
Integrates with Microsoft Office Suite of applications (Word, Excel, Outlook)
Flexibility to meet your needs (call it a complaint, case, or investigation using our form designer)
A comprehensive suite of reports for day to day management, KPIs and analysis
Workflow monitoring gives detailed information on the status of each complaint
Security – a hierarchy of authority levels determines the access rights of each user right down to document level
Simple user interface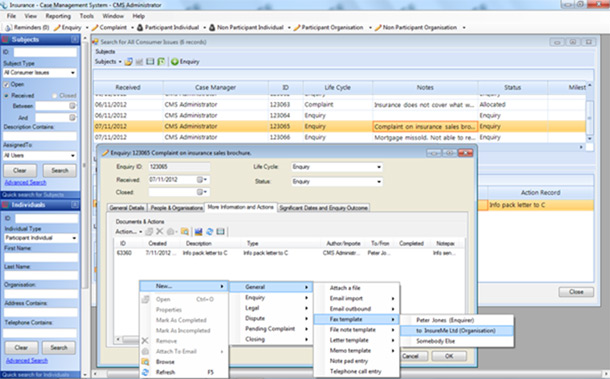 CMS is essentially a framework or a set of tools we use to configure the application to meet your specific requirements, processes and terminology. We use our core components such as the rules database, security, workflow engine and reporting modules to configure these to the requirements. CMS is therefore highly extensible and we can redesign whole forms, processes, life cycles, and workflows without a single line of code.
At the heart of CMS is the case or complaint, which can have multiple statuses. The Case can then change from one stage or life-cycle to another as it is handled by the organisation to a conclusion or outcome. The control of data entered, the life-cycles and status is managed and directed by CMS business rules and the workflow manager.
At every point in the life-cycle of a complaint, all interested parties need to be informed on the progress and to the eventual resolution of the issue.
The Complainant, Investigator and the effected parties all require information about the issue relevant to their respective role in its resolution. LANWorx CMS has detailed information on the status of each complaint. This may extend to each complaint having a life-cycle (acknowledgement, preliminary assessment, investigation, preliminary view, comments sought, final view etc.) and tracking the complaint through each stage. A tracking and follow-up facility to ensure all actions taken in relation to a complaint are recorded and promptly allocated to the correct investigating officer for action.
The system automatically generates prompts and reports identifying the need for different types of action, e.g. following a reallocation of a file to a new investigator, an un-actioned inward letter, no recorded action on a complaint within a given time frame, an outstanding response etc.
There are many types of information that needs to be stored with a case or complaint as well as the ability to retrieve and report on this information. All forms of correspondence such as email, letters, faxes, images, and voice recordings can be linked and stored with any complaint for easy retrieval and reporting. The system even allows for scanned images of inward correspondence. This can be extended to Optical Character Recognition of the scanned documents.
The nature of case and complaint management inherently involves the capture and maintenance of some very sensitive data. The integrity, security and sensitivity of this information is fundamental to the design of the system. A hierarchy of authority levels determines the access rights of each user and security integrated with workflow and document management ensure that confidentiality can be maintained right down to the document level.
Reminders can be created by any user for themselves, or to advise other staff of actions required. The system also generates its own reminders which can be triggered by workflow, escalations or certain events.
To assist staff adopting the preferred style and presentation of the communications, Templates are available in CMS for a full range of documents, letters, reports and most commonly used functions. Templates are used to assist the process of sending letters and communications as they merge the relevant details of the individual or case into the appropriate fields of the document to be sent or stored.
CMS includes a comprehensive suite of reports where any of your custom fields can be used as selection criteria. Reports come in multiple formats including counts, counts with a graph and listing reports. The standard workload, timeliness and KPI reports provide the essential statistics required by management.